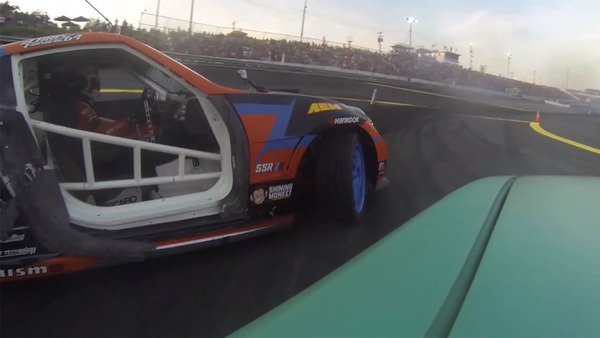 "If you're going to lose, rip someone's door off."
One of the highlights from last week's Formula Drift stop at Wall Speedway in New Jersey was the third place battle between Chris Forsberg and Darren McNamara. The two drifters collided on a right-hand turn and Forsberg's passenger side door was ripped off his car. Off Track's Jarrod DeAnda asked both drivers about the crash after the event. Forsberg actually didn't even realize he'd lost his door until he came into the next turn and saw all this light streaming into his car.
The Formula Drift driver goes across the pond for the latest GoPro Burnout Response video.
Ryan Tuerck recently traveled to the United Kingdom to test out the JapSpeed Maxxis Tires 2jz powered IS200. The car proves to be the perfect place to answer viewer questions about last week's episode of Tuerck'd, "Live Free or Die Drifting New Hampshire." With Danger Andy sitting shotgun (which would be the driver's side in the U.S.), Tuerck responds to fans about his favorite turbo setups and the modifications he makes to his car for longer turns. He also reveals that if there was one other Formula Drift car he could have, it would be Mike Essa's BMW M3. The video wraps up with, what should be Danger Andy's new tagline, "Back to you, somebody."